As pessoas falam diferente de como escrevem. A maioria dos idiomas também usam um estilo diferente para texto escrito, em comparação com o texto falado. É importante usar tradutores que tenham essa experiência com áudio. A World Translation Center usa tradutores de áudio experientes, que sabem lidar com gravações de áudio e farão o seu projeto soar como se tivesse sido originado no idioma selecionado. Uma consideração adicional é que os idiomas usam um número de palavras diferente para expressar o mesmo significado: por exemplo, o português usa cerca de 25% mais palavras do que o inglês. Nossos tradutores de áudio entendem a importância de manter o texto traduzido do tamanho do original, para que possa ser gravado com mais facilidade no tempo disponível.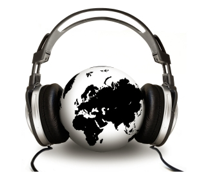 Se um vídeo tiver vários personagens, também é importante usar um estilo de fala diferente para cada personagem, para que o vídeo e os personagens fiquem mais interessantes e autênticos. Nossos tradutores de áudio estão cientes dessas diferenças e podem aplicar diferentes estilos para cada personagem, se solicitado.
A tradução pode ser feita diretamente de um vídeo, sem transcrição prévia do conteúdo; ou nós podemos transcrever o conteúdo, criar um roteiro e depois traduzi-lo.
Pontos de Sincronização
Os vídeos didáticos com frequência têm pontos de sincronização e/ou textos na tela que aparecem em um determinado momento em um vídeo. Ao mesmo tempo, a tradução precisa corresponder ou ser reformulada para corresponder ao vídeo, de forma que a nova gravação possa ser ouvida no momento em que os pontos de sincronização ou textos na tela aparecem.
Exemplo de tradução adequada:
Original em inglês
Texto traduzido
With your other hand, slowly turn the white pen body several times in the direction of the arrows until you see a

"2"

in the window and hear a click.
Com a outra mão, gire lentamente o corpo da caneta branca na direção das setas até ver um

"2"

na janela e ouvir um clique.
Se você tem uma apresentação em PowerPoint com gráficos e o moderador explicar um item no gráfico, você vai querer que ele explique quando o laser apontar para o gráfico e não um minuto depois. Os tradutores de áudio estão atentos a esses pontos de sincronização e tentam traduzi-los de forma que seja mais fácil para o processo de adaptação e para o locutor durante a gravação.
Alguns tipos de roteiros de áudio que traduzimos:
Vídeos sobre todos os temas
Apresentações em PowerPoint
Sistemas telefônicos
Sites de internet
Audiolivros

e outros tipos de roteiros de áudio
A World Translation Center só usa tradutores humanos profissionais para todas as traduções de documentos. Todos os nossos tradutores são falantes nativos, a maioria mora no país de origem e eles só traduzem para sua língua materna, para garantir traduções com a mais alta qualidade possível. Nós levamos a qualidade muito a sério e sempre usamos tradutores testados.
A World Translation Center presta serviços de alta qualidade em tradução de documentos e locução de vídeo para as principais multinacionais dos EUA, empresas jurídicas e financeiras, profissionais de saúde, agências internacionais de marketing, organizações governamentais, ONGs e empresas de todos os portes.